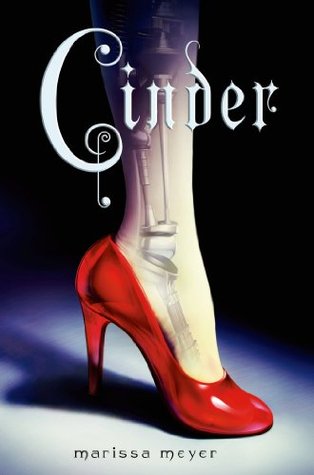 Oh My Goodness!
I think I just had a fangirl seizure… The ending to that book was immense, I'm already 100 pages into Scarlett. The book was amazingly good. I sped through with some speed bumps never the less.
Book Summary:
Cinder takes place in the distant future after 5 world wars. Humans and androids crowd the raucous streets of New Beijing. The Earth has been ravaged by a plague called Lumetosis. Cinder is a mechanic whose half human and half cyborg after an accident caused her to have half her body made up of metal parts. She can no longer cry, she cannot blush and she's forced to work by her evil stepmother Adri. She is made to be a slave to her sisters Peony (Nice) and Pearl (Evil). After Peony is taken ill with Lumetosis and only has a few days to live, Adri blames Cinder for Peony's illness and sends Cinder away to be experimented on for antidotes to Lumetosis. After finding out she can fight off the disease Cinder tries to find a way to save Peony before she reaches the final stage of Lumetosis. Her paths cross with Prince Kai, they fall in love only to find out that Prince Kai is to be married to Queen Lavena, Queen of the Lunars. Whose here to form an alliance with Earth.
Book Review:
I know this is set in New Beijing but the names are really hard to get your head around. Lingh- Cinder: does that mean her first name is her last name? The other way round maybe? I don't know… I love the interesting names though, Peony, Kai, Adri and Iko. The characters were amazing, I don't think they felt one dimensional or lacked in any way. They all had their own stories and personalities. I especially loved Peony, she was the only one who loved her sister and the only one who cared about what happened to Cinder.
I didn't feel like the story was to long or that it was fast-paced, it was just right.
My fave quote:
"Even in the Future the Story Begins with Once Upon a Time."
I give this book 4 1/2 STARS
Thanks for reading.